WATCH PROMO OF "Mathe mungaru - An introduction" produced by E.Krishnappa of
'Mungaru Male' and 'Moggina Manasu' fame.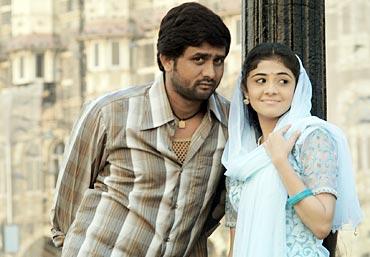 Srinagar Kitty is the hero, Archana Malhotra is Heroin and directed by Dwarki Raghava, who earlier directed GUNNA
movie for Sa.Ra.Govindu and a sole hero & heroin movie in Tamil.While the crew is very tight-lipped about the plot and are just claiming to come out with a "surprise film", some from the industry reveal that the story is based on a fisherman's family. The film, it is said also speaks of patriotism and the Hindu-Muslim issue.

When pused to reveal details, Dwarki says that Mathe Mungaru is a "love story with a national spirit". He also goes on to add that it would have taken only someone of the caliber of Krishnappa to make this kind of a film.
"I took two scripts to him, while one was a routine subject, this was the other. He bravely came forward to do this film." Bollywood's famous singer ASHA BHONSLE has sung one song specially.